Rev. Vako ta Lebanon lia WCC meeting a hlao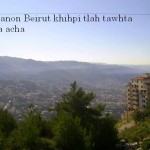 Kyhpachapa Unawh Sitanozy,
Abeipa chhithana vata keima cha tahma World Council of Church (WCC) ta taopa Conciliar Mission Consultation liata Myanmar Council of Churches (MCC) vyuhpa ta kia awpa ta tahma Lebanon khihpi Beirut cha atlahpa ta ei vaw pha haw.
Beirut khih cha tlah thaby ti laipi kiah liata y ta a pha ngasa. Keimo he tlahsapa liata a ypa Catholic nawh Cathedral liata maniah patlosa ei ta, a diah ngasa. Beirut liata cha Muslim nawh hluh chai ei ta, Krizypenawh chhao ahluh ama y hra.
Su peimawhpa la maniah ama chhitha khiahta cha ei chaw paphao via aw ei.
Nama thlachha kheina cho liata,
Elipaw (Rev. Vako)